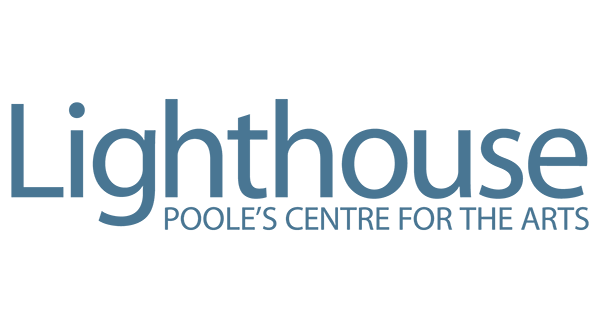 Saturday the 21st of April 2018
We now launch our fantastic shows at the Lighthouse and to celebrate we bring you the incredibly funny Phil Butler!
"Without doubt, one of the most exciting and original finds in comedy in recent years" - The Independent.
Phil Butler is truly an act like no other. Using comedy, magic and a few other skills he's Phil Phil Butler is truly an act like no other. Using comedy, magic and a few other skills he's picked up along the way, he creates a one-man variety show. He has headlined in the UK's leading comedy clubs and his act has taken him around the world from Australia to the middle east, the Caribbean to the far east. He has also had the great honour of entertaining the British forces at home and abroad, and was the first comedian to perform on the front line in Afghanistan, receiving the Operational Service Medal for his time there.
"Phil Butler's audio/visual brand of comedy would have even non-english speakers rolling in the aisles. From cigarette-juggling, to a child's toy with Tourettes, his act has it all" -The Mirror.

Opening the show is the hilarious Sunjai Arif "Bath Comedy Festival New Act 2017" Winner! Sunjai quickly wins over audiences with his confidence and warm personality. He is an engaging comedy story teller and covers tales about his family, speeding tickets and extremist rodents. Sunjai is a solid comedy act, oozes charm and will leave you grinning ear to ear.
Also appearing on the night is up and coming Nathan Eagle finalist for Leicester Square's New Comedian of the Year 2017 and Spinnaker Tower Gong Show winner!
"Nathan is one of the most original and exciting new acts I have seen in ages. Brilliantly funny" Zoe Lyons
The night is hosted by Adrienne Coles. Come along with friends, your other half or on your own as you will be sure to receive the warm Coastal Comedy welcome.
The venue and tickets: click here
Saturday the 26th of May 2018
Coastal Comedy presents the stupendous Angela Barnes!
As seen on:
Mock the Week (BBC2)
Live At The Apollo (BBC)
Host of Newsjack (BBC Radio 4) and many more!
Angela won the BBC Radio 2's New Comedy Award in 2011, and has continued to be a regular on the stand-up circuit, playing even bigger venues. She has also appeared on: Russell Howard's Good News, Russell Kane's Whistlestop Tour for Radio 2, Stand up for the Week, written for Radio 4's The News Quiz, played on Eddie Izzard's Laughs in the Park on BBC Two, and developed her own series with BBC Radio Comedy.
"Brilliantly Funny" Sarah Millican "She's just a gloriously down-to-earth, straight talking and extremely funny comic" The Guardian
"A beautifully paced performance that was aided by the consistent quality of her jokes, many of which showed a great skill with self-deprecation." Chortle
"Barnes mixes warm autobiographical material with plenty of strong jokes" The Guardian
"Angela Barnes is the best mainstream female comedian I've seen since Sarah Millican... I can't be any clearer than that can I?" Evening Standard
Also performing on the night is Andrew Watts who has a distinctive style and very original material. His posh boy humour is intelligent without distancing himself from the audience. Lawyer turned comedian, Andrew is extremely likeable and invariably wins a crowd over as he canters, like an apologetic tsunami, through challenging subjects.
"His distinctive style stands out – a winning mixture of pomposity, insecurity and emotional incompetence, while the fury-inducing importance he places on the trivial makes for a winning comic stance." - Chortle.co.uk
Opening the show is Morgan Rees fresh from being a finalist for the BBC New Comedy Awards 2017! This is a top night out not to be missed with the best acts on the circuit. The night is hosted by local comic Adrienne Coles from Coastal Comedy who are semi-finalists for the 'Best Night Out' category of the Bournemouth and Poole Tourism Awards 2018.
Our TV Headliner is the hilarious Rob Deering!
As seen on:
Comedy Rocks With Jason Manford (ITV1)
The Weakest Link Comedians' Special (BBC1)
Celebrity Mastermind (winner) (BBC1)
With his easy charm, cheesy singing voice, razor-sharp wit and clownish physicality Rob has quickly established himself as a firm favourite on the comedy circuit around Britain.
Rob Deering performs stand-up comedy with music, using a guitar, a loop pedal and his voice to create impressive rock and pop soundscapes – and does jokes, of course.
Along with being one of the most in-demand headliners on the UK circuit, he's toured nationally and performed solo shows at the Edinburgh Fringe many times since starting out in comedy in the year 2000. He also recently ran all over Britain for BBC 6 Music. Yes, Rob runs and presents the podcast Running Commentary with fellow running comic Paul Tonkinson, and fundraises for his favoured charity Parkinson's UK having run seven marathons.
"Ingenious and hilarious" The Guardian
"An evening in his company is nothing less than a joy" The Independent on Sunday
'Truly wonderful stand-up' (The Sunday Times)
'As sharp and versatile as a Swiss Army Knife' (The Independent)

Opening the show is the incredible Julian Deane who has been wowing audiences across the country with his genius punch lines and perfect delivery. His witty writing skills have been put to use on Matt Forde's Unspun (Dave Channel), which he wrote for in 2016. This year, Julian will support Paul Chowdhry on the highly-anticipated tour Live Innit.
Having first performed stand up in 2005, Julian's brilliant, utterly original and hilarious routines have earned him appreciation, recognition and praise from audiences across the country.
Julian has proved his talent by winning some of the most prestigious stand-up comedy competitions in the country and is also in big demand as a writer (Mock the Week).
Deliciously twisted, a stream of seriously good gags. Quick, sharply written and endlessly repeatable lines. The Guardian
It's just a matter of time before Julian Deane gets a boost up the comedy rankings. His trick is to make you think you're watching standard stand-up fare, then twisting expectations with sharp, original punchlines. The Independent
Also appearing on the night is the sensational Linda Larkin! Funny's Funny Female Comedian of the Year 2012; and runner-up in the NATY New Act Of The Year competition in 2013, and third placed in the Leicester Square Old Comedian Of The Year competition in 2015,

'Excellent. Her punchlines were as hilariously off-kilter as they were well-devised'
Local comic Adrienne Coles hosts the night, don't miss it.
Saturday the 21st of July
Coastal Comedy presents the incredible Paul Thorne as seen on:
The Stand Up Show (BBC One)
The Comedy Store (Comedy Central) and many more!
"A must-see comedian" The Guardian
"Amiable cheekiness and easy banter make him a hit with audiences…masterfully delivered" chortle
Paul Thorne is a topical comedian, whose finely crafted material and quirky songs have made him one of the UK's most sought-after stand-up talents. A well respected headliner and skilful compere, Paul is also a regular member of The Comedy Store's Cutting Edge team; performing material based on the week's news in this prestigious long-running topical show.
A wonderfully assured performer, Paul's provocative topical gags; spontaneous wit, and surreal comedy songs have earned him a reputation as a quality live performer.
Opening the show is the very talented Jenny Collier. Jenny moved from the Welsh mountains to the Big Smoke in 2010 and has since embarked upon a career in stand-up. Highlight: Appearing on a BBC Radio Wales panel show with Jo Brand. Low point: After a gig, an audience member saying 'You should be a stripper' (Both secretly highlights).

She has written for BBC Radio 4's The News Quiz, Huffington Post and Glamour Magazine. Jenny has won many comedy awards and we are excited to bring her to the Lighthouse.
''Very likeable...Clearly a rising star'' The Evening Standard
''Refreshingly original...Excellent'' ★★★★- Broadway Baby
Also appearing on the night is Konstantin Kisin, a fast-rising Russian-British comedian, known for his charming delivery, intelligent humour and outsider's perspective on all things British.
"Observations so accurate they're as despairing as they are funny..." Cup of Beans Comedy
"Nifty gags" - Steve Bennett, Chortle
The night is hosted by local comic Adrienne Coles from Coastal Comedy who are semi- finalists for the 'Best Night Out' category of the Bournemouth and Poole Tourism Awards 2018.
Past shows: Coastal Comedy on the Quay!
Saturday the 23rd of September 2017

We bring you the sensational Tanyalee Davis. As seen on:
The John Bishop Show (BBC1)
Live at the Apollo (BBC2) and many more!
Come and enjoy a top night of live entertainment at The Thistle Hotel, Poole Quay. Coastal Comedy were finalists for 'Best Night Out' as part of the Bournemouth Tourism Awards 2017 and you can find out why as we stage our first show in Poole!
Bringing you the best names on the circuit, here's some more about our TV headliner: At 3'6″, Tanyalee is the Ferrari of comedy – low to the ground and kind of racy. Canadian born, Tanyalee inspires, enlightens, and entertains her audiences and is making the stage her home by touring all over the world and bringing the funny!
Tanyalee's perception of people, and how they perceive her, exaggerates the humour of life's "little" tasks and routines. Tanyalee has made a small yet significant dent in the entertainment scene thus far, What she lacks in height she makes up in tenacity. Known as "the little lady with a lot of BIG laughs."
"A master of physical punctuation" THE LAS VEGAS SUN
"Touch you, amaze you, entertain you hugely, cleverly crafted, Tanyalee is a punch-packing standup" THE SCOTSMAN
"Tanyalee Davis is simply one of the funniest people I know. She has a unique view of the world and if you haven't seen her I urge you to go, sit back, relax and laugh." JOHN BISHOP
Opening the show is the hilarious comedy magician Wayne the Weird with his outrageous on stage tomfoolery! Incorporating stand-up comedy, with magic.
Also performing on the night is James Alderson. He is a regular performer at clubs across the country including Up the Creek, Jongleurs, and The Comedy Store and has supported both Jo Brand and Eddie Izzard. James is one of the most sought after names on the circuit.
"A true comedy gem. Tore the roof off!" – Steyning Comedy Club
"He has the ability to magic hilarity with a variety of wonderful jokes…" – Buzz Comedy
Come along with a group of friends, your other half, or on your own and you will receive the Coastal Comedy welcome at this lovely venue overlooking the quay.
Hosted by local comic Adrienne Coles. Advance tickets are available online £12 and £16 on the door, available online or in person at Truly Scrumptious and Poole Tourist Information Centre.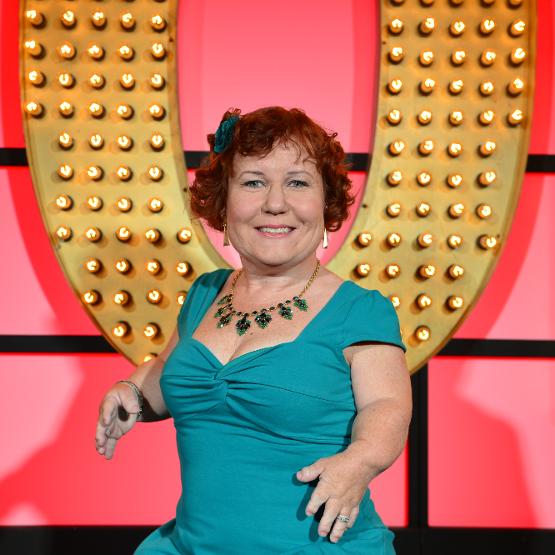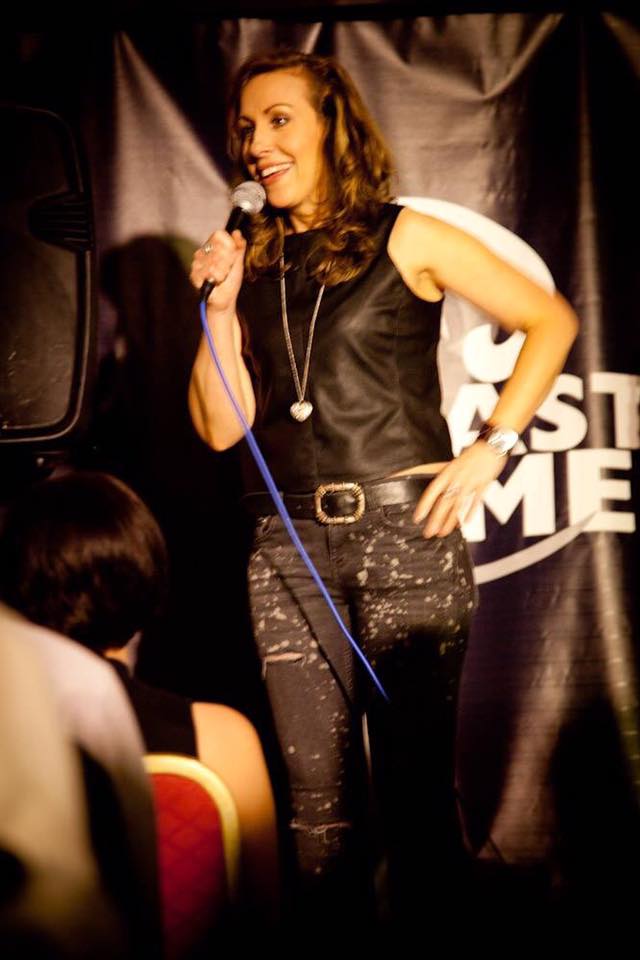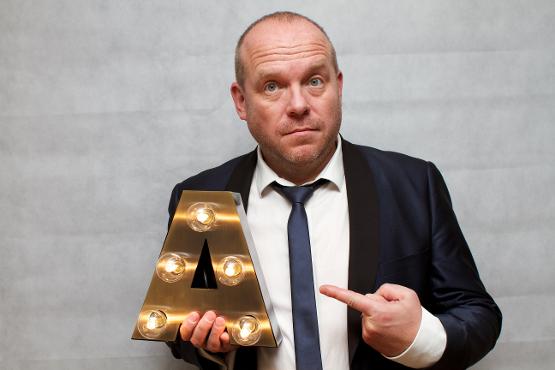 Facilities include a bar for refreshments in a lovely setting overlooking the quay.Come and support live comedy and laugh your socks off, its a great night. Parking is LIMITED on the premises at THE tHISTLE HOTEL, but THERE IS A MULTI-STOREY CAR PARK NEARBY. We look forward to seeing you there!
Please note that we do not cater for Stag or Hen do's please contact us for more information.
WAVES OF LAUGHTER AT EVERY sHOW!