Please note that from September 2021 these shows are inside in the intimate Studio. The venue has ventilation and all Covid secure guidelines in place. Learn more here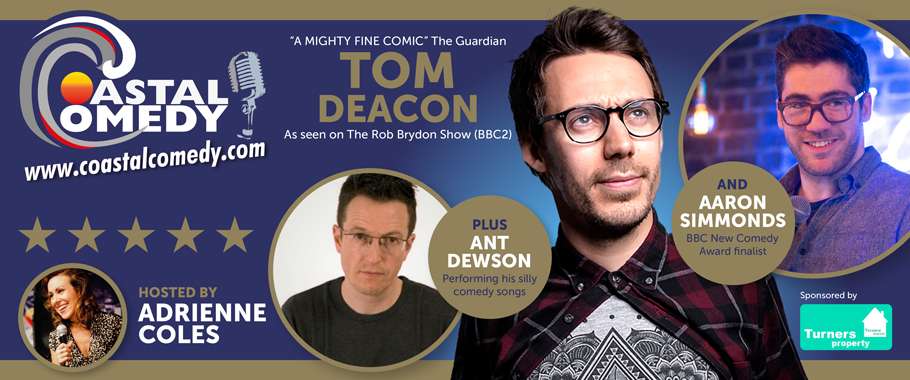 Saturday 9th October
The Coastal Comedy Show with Tom Deacon
As seen on The Rob Brydon Show (BBC2)
Dave's One Night Stand and many more.
Tom has been performing live stand-up for the last 14 years – with four Edinburgh solo shows under his belt – and has been the host of his own TV, radio and online shows on BBC2, BBC Radio1, The Capital FM breakfast show and many more and we can't wait to welcome him to the Lighthouse.
"A mighty fine comic" The Guardian
"With looks, confidence, charm and great material; expect other comics to lynch him" The Sunday Times
Opening the show is Ant Dewson who passed his Grade 6 piano exam when he was 14 – and he hasn't got any better since then! Classical music's loss was comedy's gain, and Ant now puts his limited skills to good use performing silly songs at comedy clubs up and down the country.
Also appearing on the night is BBC New Comedian of the Year finalist Aaron Simmonds. Aaron's debut show at the 2019 Edinburgh Festival was nominated for Best Comedy Show by Broadway World UK and reached the finals for The Amused Moose Best Show. He is as seen on The Stand Up Sketch Show (ITV2) and Guessable (Comedy Central).
"His routine unfolded with great, measured skill. A class act." - Chortle
Don't miss this top night out with some of the best acts on the circuit. The night is hosted by local comic Adrienne Coles from award winning Coastal Comedy – see you there!
Advance tickets including booking fee are £18 (£23 on the door) £15 for concessions (£20 on the door) from the Box Office on: 01202 280000 or online www.lighthousepoole.co.uk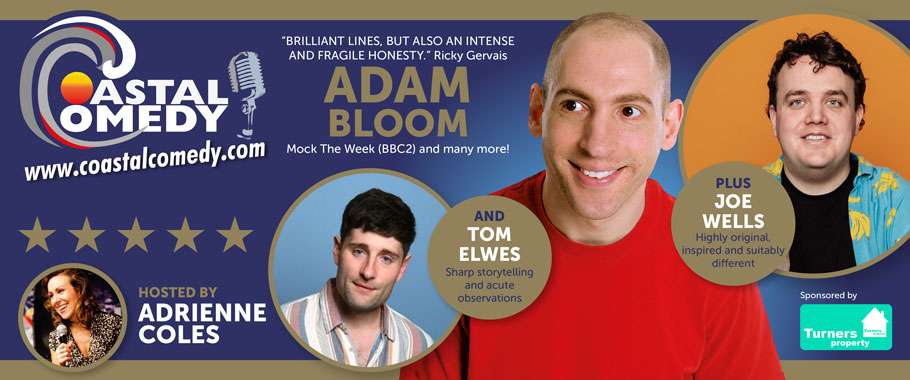 Saturday 6th November
The Coastal Comedy Show presenting the stupendous Adam Bloom!
As seen on:
Mock The Week (BBC2)
Russell Howard's Good News (BBC2)
The Comedy Store (Comedy Central)
Adam has appeared on and written for various stand-up and panel shows on TV, and is a Time Out Award winner for best stand-up. He's that funny.
Ricky Gervais says: Adam Bloom has been one of his favourite comedians for ten years: '…Bloom not only has meticulous, brilliant lines, but also an intense and fragile honesty.'
The Independent describes him as being '…in the premier league of comedy,' and The List says: 'Bloom is perhaps the perfect comedian.'
We look forward to welcoming him to the Lighthouse for this special show.
Adam is supported on the night by Joe Wells who's writing career began when his first book 'Touch and Go Joe' about his experiences of OCD was published. He now writes for 'Have I Got News For You' and many more.
Joe has made a name for himself as a stand up comic, writer and speaker and now focuses mainly on his unique brand of comedy and has been very successful in many comedy competitions.
"A star of the future... some of the most surprising and thought-provoking material coming from any comedian in his 20s" The Guardian

"Highly original, inspired and suitably different from the rest of the crowd… brilliantly crafted jokes" Comedy Central
Tom Elwes is also appearing on the night. Tom is a stand-up comedian, writer and actor and one of the newest comics to break through on the comedy circuit. As a life-long Londoner, he uses a combination of storytelling and acute observations to make sense of his chaotic existence. His quick wit, charm and high-energy make him one to look out for in the future.
Don't miss this top night out with some of the best acts on the circuit. The night is hosted by local comic Adrienne Coles from award winning Coastal Comedy – see you there!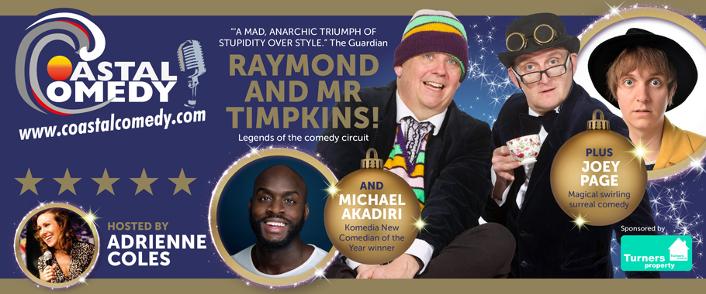 Saturday 11th December
The Coastal Comedy Christmas Show with Raymond and Mr Timpkins! Legends of the comedy circuit.
Likened to Morecambe and Wise and the Two Ronnies, anyone who can bring the house down with nothing more than a couple of Lidl carrier bags and an Oasis song have to be seen to be believed.
'It's freakish entertainment on a twisted stick', the charismatically challenged uncle and nephew duo, invite you into a world of stylophone rock anthems, brushed velvet arousal and 'indulgent, brilliant tackiness'.
'A mad, anarchic triumph of stupidity over style. Not to be missed' The Guardian.
Opening the show is the very talented Joey Page. Joey is eccentric and he is somewhat of an undiscovered sparkling gem. Magical swirling surreal comedy. An antidote to the woes of the world, Joey takes you through the tangled joy of his charmingly childlike logic. Creating a world of uniquely offbeat characters and tall tales of fancy.
'Joey Page is brilliantly inventive and imaginative and very funny' Josie Long
'This innately likeable young man has an instinct for funny' Chortle
That's not all! Also performing at this special show is fast rising, multi-award winning comedian Michael Akadiri who's natural charm and cheeky, observational style has already seen him make an impact on the UK comedy scene. Most recently winning the Komedia New Comedian of the Year award.
"Expect to be laughing regularly at him in the future." EVENING STANDARD
Don't miss this top night out with some of the best acts on the circuit, sponsored by Turners Property. The night is hosted by local comic Adrienne Coles from award winning Coastal Comedy – see you there!
Over 18s only. Please note that acts may change due to TV Commitments.
Show starts at 8:00pm. The Lighthouse 21 Kingland Rd, Poole BH15 1UG www.lighthousepoole.co.uk
WAVES OF LAUGHTER AT EVERY sHOW!